INTERVIEW WITH YIYANG HEI
---
Yiyang Hei is the founder and creative director of SenseTeam. He is one of the most dynamic and visionary team leaders in the global Chinese creative field, focusing on the civic and social aspects of creativity. He is one of the most active pioneers of cultural exchange in China today, dedicated to the integration of graphic, contemporary art, advertising, architectural space, urban, social and other media in different fields.
In your previous introductions and interviews (TOPYS., 2011), you mentioned that your team is committed to integrating diverse media, including graphic design, modern art, advertising, architecture, space, and society, to best convey engaging, important, and significant works. What is the motivation/purpose of this type of design that spans multiple disciplines (diversified design)? Or, rather, why do you do it and what motivates you to create in this manner?
Hei: To begin, China's current development demonstrates a trend toward diversity. As you are surely well aware, in the United States, a heterogeneous society has established the groundwork for American culture, and it is the diversity that enables America to generate an infinite amount of energy. By superimposing diverse cultures and views, this society can create a new mode of perception.


Second, it appears that design is evolving in lockstep with human society's changing needs. From the hoe in rural civilization to the steam engine in industrial society and, finally, to the computer in contemporary society, people have employed various instruments to advance socially. Hence, graphic design and other design professions are ultimately influenced by human needs and deviate from their original intended meaning. Designers must layer many tools and employ them properly to create an infinite number of design possibilities.


Each period generates its own thoughts. After gathering the necessary knowledge, designers must operate within various times, places, and cultures, which I believe will prove to be an extremely effective style of operation with regard to future design work. At the same time, I believe designers must demonstrate some vision, whether for society, business, or industry. We need to understand how society is progressing. How do systems come to be? The evolution of the system will affect business, and business will impact the industry. As designers, we cannot disregard this system.


I believe design should be inextricably linked to society at all times, but especially amidst the post-epidemic era today, a time when the frequency of communication between people is dwindling. In such circumstances, figuring out how to bring out the vitality of design is a goal I've been thinking about and researching.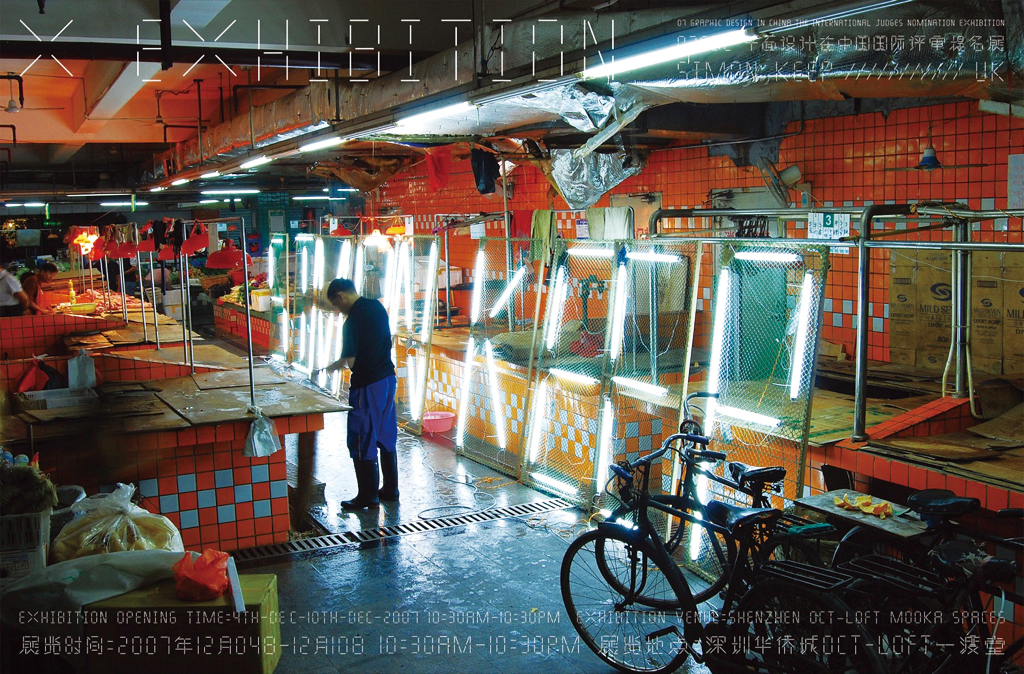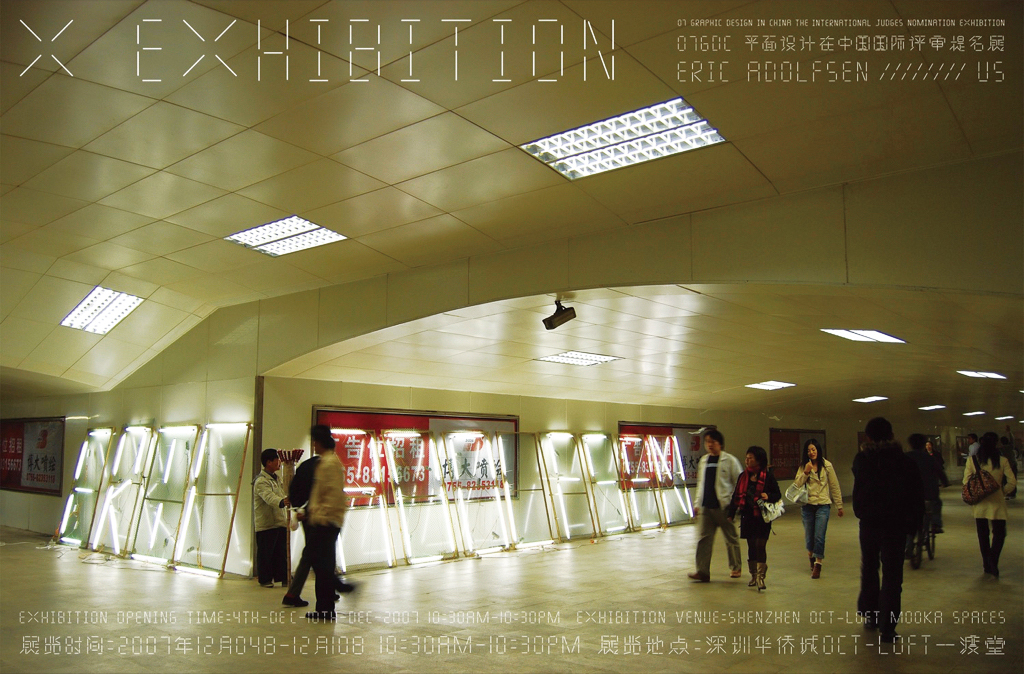 X Exhibition is an international graphic design assessment exhibition held at Shenzhen's Creative Park. SenseTeam used light components to build a modular typographic system, combining three light tubes to produce text and pictograms. The resultant signs and branded "posters" were distributed across the city in the weeks leading up to the exhibition, generating a lot of excitement for the forthcoming event. They were also on display in the gallery, where they assist to brighten the area and aesthetically arrange the show.

You just now mentioned the importance of the word "foresight" for designers. Can you elaborate on your understanding of foresight?
Hei: Foresight is a result of logic. A case in point is the Chinese Yi Jing , which, despite the widespread belief that it is capable of forecasting the future, is a product of data, much like our current algorithm. Personally, I feel that everything has logic because the genuine way of operating is formed by logic. Whether it's a computer or the Yi Ching, everything may be thought of as an algorithm. If we recognize the existence of an algorithm, we will obtain a law, namely a formula, when we combine the facts from the past. And this formula can assist us in predicting how society will evolve in the future.


Therefore, why should we, as designers, attempt to forecast the future or stay one step ahead of society? I believe what makes people human is that we must possess insight. In the design industry, the term "insight" is frequently used. What does insight mean? It's about seeing what we can't see. If our senses are visible, then feelings are invisible. Because the senses generate feelings, people can generate a great deal of imagination and precognition through environmental and sensory changes, and imagination is one of the manifestations of precognition. If we admit the existence of creativity, its core is precognition, and precognition's core is the ability to predict the future.


Creativity can be as large or small and as positive or negative as one's capacity to predict the future. Thus, we may devise a method to determine whether a truly great creator can allow good works to be foreseen via a specific formula rather than allowing the works to rule ideas.
Could you please introduce a piece of work that best articulates the team's main idea (or that your team is most proud/satisfied with)? How was it inspired, and how did the process come about? What was its purpose?
Hei: I Prefer This Colorful World is a contemporary work of art that my team and I developed in 2016. This piece makes a compelling artistic case. We used many banknotes to make the piece since the banknote is a tool that every one of us uses daily, and we wanted to present the banknote in the most straightforward manner possible. We viewed banknotes as paint and reimagined them through collage.


Moreover, this work can be viewed as a religious philosophy. It was influenced by Buddhism, which varies between countries. Thus, we reflect the limits and ideology of each country through paper money because countries invest their greatest ideology in paper money.


What is the purpose of banknotes? The first purpose is materialism. The second is to show what wealth truly means to individuals, for example, desire or propulsion. The third purpose focuses on what people want to see eventually, which is why we cut the banknotes, reassembled them, and reimagined the piece from a sort of divine perspective.


Because everyone sees and understands things differently, the title I Prefer This Colorful World indicates one flower representing one world. We accept everyone's perspective and invite them to choose a perspective they want to see in their own world in the completion of their self-expression. This perspective most acceptably conveys one's understanding of life; "I perfer" also conveys my attitude and resolve as a designer.
Do you encounter diverse viewpoints (from your team, peers, the internet, or the audience) during your or your team's creative processes? Do these voices from diverse perspectives influence your work? How do you balance and perceive these voices? Blend them? Discard them? Ignore them?
Hei: I believe the creative process has three stages: seeing clearly, thinking clearly, and acting clearly. You must first understand what you observe, then how to translate it into logic, and finally how to explain it coherently. My team and I have always upheld the ideas of democracy and centralization. We all have the right to express our unique thoughts, but they must be contained inside the same dimension. I gather and combine my team's ideas. Next, we will debate and settle on the final plan. This is also determined by Western dialectics.

Civilization, we believe, is contested and confronted. The encounter is not a clash of wills but rather a collision of ideas.

Whoever has a better rationale and logic will win.


However, democracy requires a threshold, and we are familiar with the political system's concept of democracy. Without a certain capacity for discrimination, democracy will squander a vote in our hands.
You and your team have explored many social themes through your designs, such as
Big Business III
and
I Prefer This Colorful World
. How do designers and artists such as yourself position yourselves in society? Alternatively, what role do you play? What role do you take on? What is your guiding principle?
Hei: First, I believe this role varies according to the designer's stage of development. I categorize these stages as follows: The first is the apprentice stage. I graduated from college 20 years ago and immediately began working for a bank in Shenzhen. However, to pursue my passion for art and design, I quit my job and began learning new design skills, such as interaction design, 3D design, and architectural design. Because I lacked decision power at the time, I was still figuring out what design was and how to create. This stage represented a transition from river civilization to marine civilization.


I identify the second stage as the working stage. Mine was characterized by a move from marine culture to information culture. I chose to start my own business during this time, and I began to create a connection with society. However, this process was not always easy. After several difficulties and tribulations, I gained a true understanding of business, service, and society; it took me almost ten years.


Next comes the independence stage. In my transition from information culture to meta-universe, I set up norms and patterns on my own. This simply involved appreciating my own capacity to contribute to those around me, my clients, and society as a whole.


"See yourself, see the world, see all beings," said filmmaker Wong Kar-wai. First, you should gain a clear understanding of yourself; second, establish your vision; and, third, give back to society. I hope to share what I've learned with everyone, boost returns to the people around me or the industry, and, finally, provide some impetus to society. That would be enough.
Big Business III, published in the March of 2010, is created and edited by SenseTeam. The whole book is collaged by money, combining faces, wealth and brands. It provides people with a new vision to understand brand and identity and to rethink the influence of money and desire on human beings.
Finally, what qualities are in your view defines an outstanding designer? What advice would you give a young designer who wishes to create work that addresses a social issue?
Hei: I think having respect for all industries and changes is most important by positioning oneself with an attitude that demonstrates respect for nature, society, and the public. Maintain a low profile as a mover.


Second, strive to be an astute discoverer, for discovery necessitates prudent thought.


Third, be an outstanding promoter. With only the previous two, the design will remain a pipe dream. We must continue to push the ideas for design to become a reality.


For the advice. First, young designers must respect people's viewpoints. People from different eras have varying thoughts, and I thoroughly enjoy interacting with them. Also, I believe that each generation has a unique mission and place for expression. We should appreciate each era's events and seek to understand what we do not. However, I want to convey that new designers must first define what they desire and who they wish to be. Avoid stifling your imagination; dare to be yourself. Simultaneously, be courageous enough to accept counsel from various sources. Maintain constant communication and optimization, as well as an open and tolerant approach.
So I'll end here and thank you for taking the time to do this interview with me. I will be in touch. Take care.